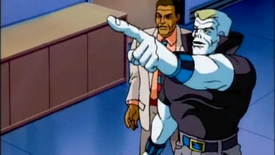 Tombstone is the ninth episode of season three. When Tombstone is hired by Alisa Silvermane to kill a story the Daily Bugle is planning about her taking over her father's criminal empire Tombstone attempts to use his old friend, Joseph Robertson to do it. However, things are complicated when Robbie learns that his son, Randy is in Tombstone's new gang. (Read more)
Ad blocker interference detected!
Wikia is a free-to-use site that makes money from advertising. We have a modified experience for viewers using ad blockers

Wikia is not accessible if you've made further modifications. Remove the custom ad blocker rule(s) and the page will load as expected.