This is starting to sound like a bad comic book plot


This character is non-canon to Spider-Man: The Animated Series.
Do not categorize this page under Spider-Man: TAS Heroes, Spider-Man: TAS Villains or Spider-Man: TAS Characters.
Cain Marko is the step-brother of Charles Xavier that used a mystical gem to become the Unstoppable Juggernaut.
History
Powers
Appearances
The Unstoppable Juggernaut
Juggernaut Returns
Trivia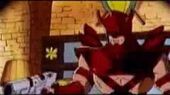 My Way Entertainment created a video where they took footage of the Juggernaut from X-Men: The Animated Series and had an actor dub over Rick Bennett's voice and say "I'm the Juggernaut bitch!" This video became so popular that Vinnie Jones said "I'm the Juggernaut bitch!" during the movie X3: The Last Stand.
Ad blocker interference detected!
Wikia is a free-to-use site that makes money from advertising. We have a modified experience for viewers using ad blockers

Wikia is not accessible if you've made further modifications. Remove the custom ad blocker rule(s) and the page will load as expected.